If your kids love Rick Riordan, mythology, and action-adventures full of heart, then take a look at the vast Rick Riordan Presents collection of stories. These are books by authors who draw from their own cultures to bring us Percy Jackson levels adventure and fun. Read more below to see what Rick Riordan has to say about these books, and to check all of them out. Simply click on a title to learn more about it, or to put it on hold!
Rick Riordan says:
Rick Riordan Presents is one small branch of the Disney-Hyperion Publishing family. We aim to publish about four books a year. All these will be books that my editor Stephanie Lurie and I feel will appeal to kids who like my books. In other words, they will probably be some type of middle grade adventure, with lots of humor and action, and probably draw on myth or folklore in some way.
Our goal is to publish great middle grade authors from underrepresented cultures and backgrounds, to let them tell their own stories inspired by the mythology and folklore of their own heritage. Over the years, I've gotten many questions from my fans about whether I might write about various world mythologies, but in most cases I knew I wasn't the best person to write those books. Much better, I thought, to use my experience and my platform at Disney to put the spotlight on other great writers who are actually from those cultures and know the mythologies better than I do. Let them tell their own stories, and I would do whatever I could to help those books find a wide audience!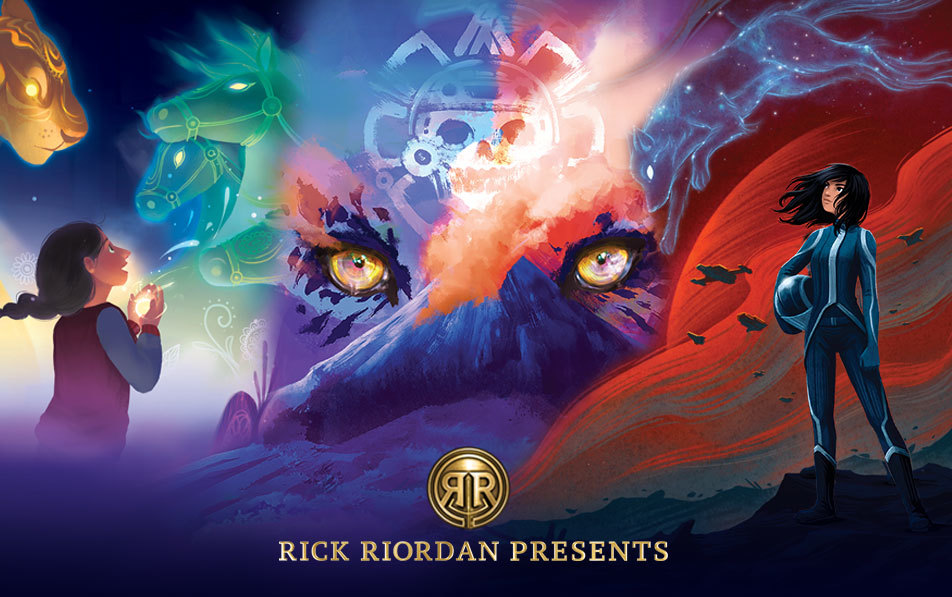 Hindu Mythology:
Series Name: The Pandava Quintet by Rouhani Chokshi
Aru Shah and the End of Time *** A New York Times bestseller!
Best-selling author Rick Riordan introduces this adventure by Roshani Chokshi about twelve-year-old Aru Shah, who has a tendency to stretch the truth in order to fit in at school.
Aru Shah and the Song of Death

Aru Shah and the Tree of Wishes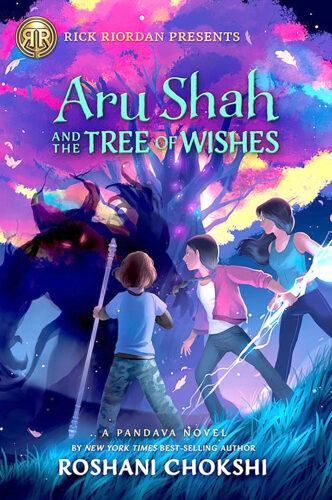 Aru Shah and the Nectar of Immortality (COMING IN 2022!)
Maya and Aztec Mythology
Series Name: Storm Runner by JC Cervantes **A New York Times bestseller!
A lonely boy in New Mexico has a physical disability that makes middle school feel even more like everyone is watching him. But as he soon learns, his physical differences are merely the first clue to a family history that connects him to the Maya gods—and puts him in mortal danger.
The Storm Runner
Korean Mythology
Series Name: Thousand World by Yoon Ha Lee ** A New York Times Bestseller!
A sci-fi adventure novel about Min, a teenage fox spirit, who runs away to solve the mystery of what happened to her older brother and ends up on an adventure that could save her entire planet.
Dragon Pearl
Cuban Mythology
Series Name: Sal & Gabi by Carlos Hernandez **Winner of the Pura Belpré Award!
A brilliant sci-fi romp with Cuban influence that poses this question: What would you do if you had the power to reach through time and space and retrieve anything you want, including your mother, who is no longer living (in this universe, anyway)?
Sal and Gabi Break the Universe

African-American and West African Mythology
Series Name: Tristan Strong by Kwame Mbalia **A New York Times Bestseller!
Pitched as a Middle Grade American Gods, the book stars a seventh-grade boy who accidentally creates a hole into the Midpass, a world where ancient African gods clash with gods of African-American legend. He must race to find Anansi, the Weaver, and repair the rip before the iron monsters wreaking havoc in the Midpass consume their world and ours.
Tristan Strong Punches a Hole in the Sky

Tristan Strong Destroys the World

Tristan Strong Keeps Punching (COMING OCTOBER 2021!)

Mexican Mythology
Series Name: Paola Santiago by Tehlor Kay Mejia
Space-obsessed 12-year-old Paola Santiago and her two best friends, Emma and Dante, know the rule: Stay away from the river. It's all they've heard since a schoolmate of theirs drowned a year ago. Pao is embarrassed to admit that she has been told to stay away for even longer than that, because her mother is constantly warning her about La Llorona, the wailing ghost woman who wanders the banks of the Gila at night, looking for young people to drag into its murky depths.
Hating her mother's humiliating superstitions and knowing that she and her friends would never venture into the water, Pao organizes a meet-up to test out her new telescope near the Gila, since it's the best stargazing spot. But when Emma never arrives and Pao sees a shadowy figure in the reeds, it seems like maybe her mom was right. . . .
Pao has always relied on hard science to make sense of the world, but to find her friend she will have to enter the world of her nightmares, which includes unnatural mist, mind-bending monsters, and relentless spirits controlled by a terrifying force that defies both logic and legend.
Paola Santiago and the River of Tears

Paola Santiago and the Forest of Nightmares (COMING AUGUST 2021)

Paola Santiago and the Sanctuary of Shadows (COMING IN 2022!)
Korean Mythology
Series Name: Gifted Clans by Graci Kim
Twelve-year-old Riley Oh desperately wants to have healing powers like everyone else in her Korean witch family. With the help of her sister, Riley attempts to summon Mago Halmi — the mother of all goddesses — but instead her sister is banished to the spirit realm and Riley is given an ultimatum. If she wants to get her magic and save her sister's life, she must find the godrealm's last fallen star.
The Last Fallen Star
The Last Fallen Moon (COMING IN 2022!)

Navajo Mythology
Race to the Sun by Rebecca Roanhorse **A New York Times bestseller!
New Mexico seventh grader Nizhoni Begay and her brother, aided by various Navajo gods disguised as relatives, must stay one step ahead of a shape-shifting monster as they follow in the footsteps of the legendary Hero Twins to save their family.
Mesopotamian Mythology
City of the Plague God by Sarwat Chadda
Inspired by Mesopotamian mythology, the story follows Sikander Aziz, a Muslim boy born and raised in New York City, as he teams up with legendary hero Gilgamesh to defeat the ancient god of plagues before the entire population of Manhattan is wiped out.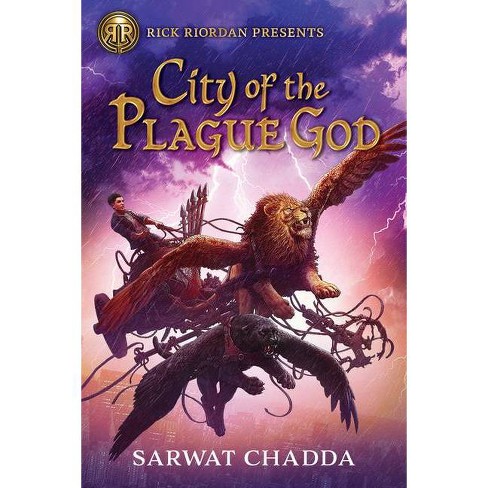 Hmong Mythology
Papua and the Soul Stealer by Lori M. Lee (COMING SEPTEMBER 2021!)

COMING IN 2022 AND BEYOND…
Aztec Mythology series by JC Cervantes: Throne of Sand (2022)
Ghanaian Mythology series by Roseanne A. Brown: Serwa Boateng's Guide to Vampire Hunting (2022)
Santeria Mythology series by Daniel Jose Older: Ballad and Dagger (2022)
Chinese Mythology series by Stacey Lee: Winston Chu Versus the Whimsies (2022)
Caribbean Mythology series by Tracey Baptiste: Moko Magic (2023)